I always joke with my husband that feeding him (during hard training and race season) is like feeding a family of four. And when we go do training camps or have other triathletes come stay with us, it's like feeding a village! These guys are small but need a lot of good fuel, especially if it's for ironman training.
eat/train/sleep/repeat.
Like I mentioned before, I love being a sherpa wife. I feel like it's my calling, my "sweet spot." But I wouldn't be able to keep this Kiwi triathlete well fueled for the year (season) if it weren't for some helpful tools and amazing companies.
The BEST investments for FOOD and COOKING:
A Costco Membership- For things like Udis Glutenfree Bread in large quantities and bigger pieces! And for organic eggs. Eggs on toast–> BAM!
A Rice Cooker –I use it for everything. GF oats, rice, lentils, etc.
I've even traveled with it and made a trail mix porridge for fellow triathletes we were staying with.
The FUEL and Sponsors/Ambassador programs that help:
No no, they did not pay me to write this. This shout out for genuine LOVE. Honestly, we could not DREAM BIG without these companies. The provide us with the RIGHT fuel and for that, we are forever thankful!
NUTTZO– The kiwi and I are both Athlete Ambassadors for Nuttzo. They are truly an amazing company (see their story here) and of course provide us with AMAZING nourishment. Certified Nuttzo Addicts right here! Feel free to use our 15% off code too. COTTER-15 at checkout.
Our favorites.
Lovegrown Foods Granola and Oatmeal- Our go to for breakfast and for traveling! The kiwi has gluten free Hot Oats or Super Oats almost every morning post swim!
Corepower– Oh yes, we love our lactose free and gluten free Corepower. We've known this company for so long. First met them back in 2009 at the Buffalo Springs Half Ironman. We knew them when they were first honey milk and have stuck with them ever since! Needless to say, they POWER our RECOVERY.
PB and Banana Smoothie anyone?
Rebootizer– Oh my, this company is a god send. Truly a great natural supplement that helps fight oxidative stress. And if you're an athlete that trains hard every day, your body needs this to fight those free radicals. AMEN!
Sorry, proud sherpa wife had to post this picture.
Larabar–  Gluten free training fuel –> Did I mention the KIWI trains anywhere between 20-35 hrs a week? Yep. He uses these bars for long rides and snacks. I use them, well, anywhere and everywhere.
We are both lucky  to be ambassadors for Larabar.
Sizzlefish– This is a new sponsor for us this year and one we are EXTREMELY grateful for. Sizzlefish sends us their omega packs each month. This allows my husband to eat quality fish 4-5x a week. The owner, Rob, is a fellow triathlete and definitely understands the demands of good nutrition that goes along with training.
Enduropacks- a monthly supply of nutrition in a box! Enduropack is a great new company targeting endurance athletes. T
Each pack includes a 30-day supply of their:  Liquid Multi-Vitamin, Concentrated Electrolyte Spray, Essential Amino-Acid Patch, and L-Glutamine Tablet. All Gluten Free, NON GMO, and Organic. Plus they include small business samples in there too!
And of course, Zevia …Ohh SWEET SMART Zevia. Long gone are the days where my husband drank coke or coke zero after a long run. So glad I can provide another "soda" fix that is sugar free and all natural.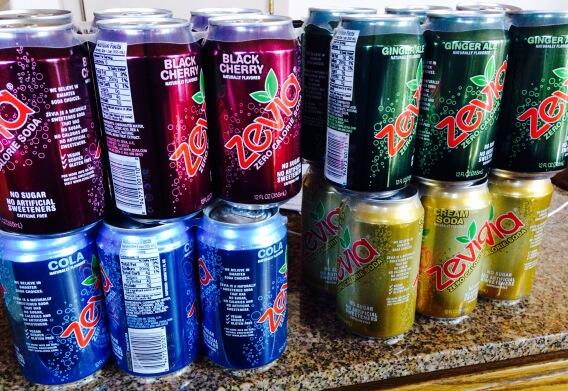 If you made it through this post, you deserve a medal. I know, it's long but it was needed.
The kiwi and I have privilege of really KNOWING these companies. We know the people behind them (in real life as well). We know their names, what they believe in, what they stand for, and more. We believe in them and they believe in us.
A BIG HUGE thank you to each!
[Tweet "Fueling a Professional Triathlete for race season via @LCCotter #glutenfree #fitfluential #triathlon"]
What's your go to fuel  for training? Any favorites?
Cheers to a WELL FUELED race season!
LC