This Homemade Gluten Free Flour Blend Recipe features not one but two different variations with a regular all-purpose gluten free flour blend and a 1:1 baking blend to cover all your gluten free recipe needs! Better and more cost-effective than anything you'll find in the store, it's perfect for gluten-free breads, cakes, cookies, and more!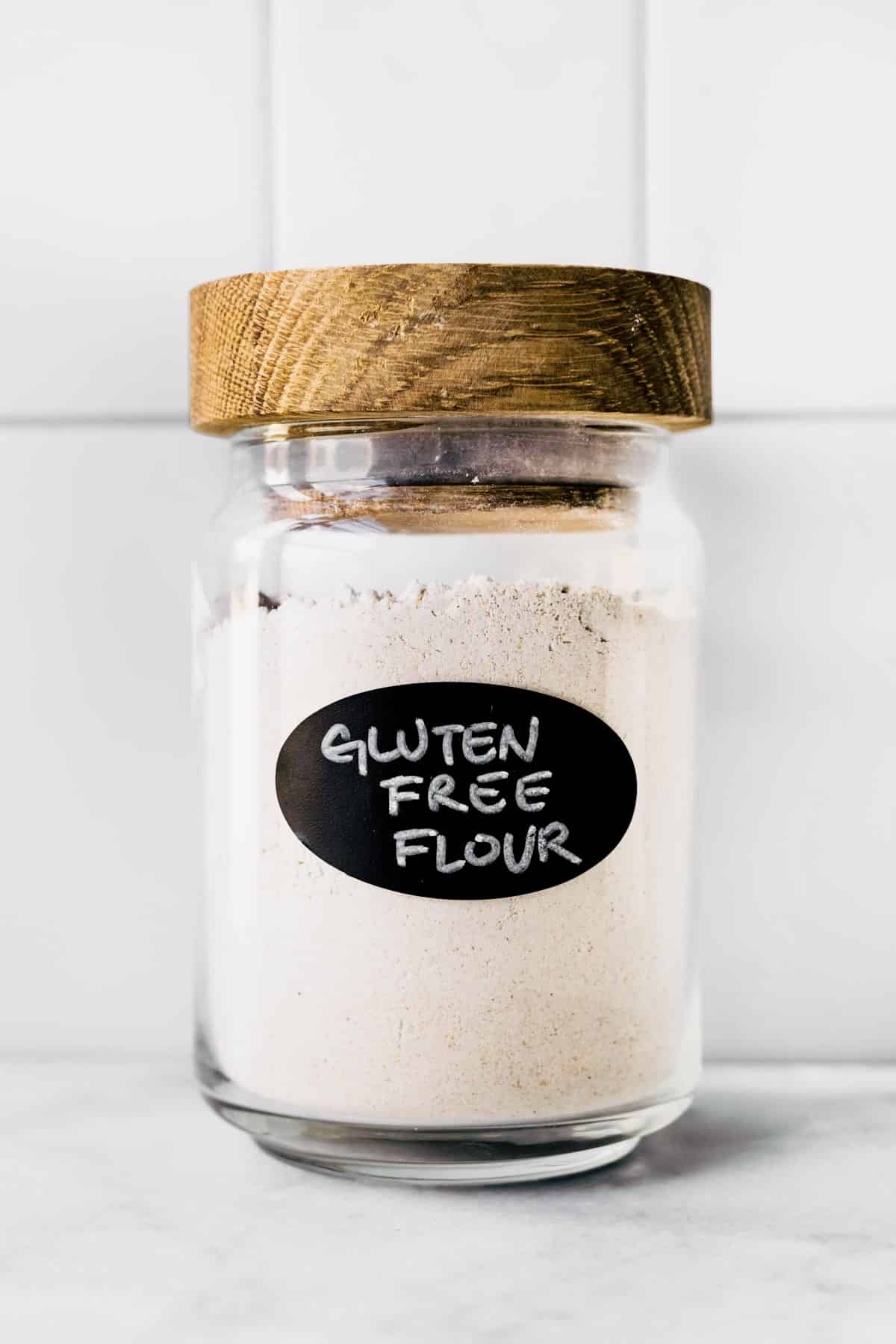 What Is A Homemade Gluten Free Flour Blend?
A homemade gluten free flour blend is exactly what it sounds like! It's simply a DIY replacement for the various gluten-free flours you see in the baking section at your local grocery store. Depending on the specific type of flour being made, there will be different ingredients and variations such as the presence or absence of xanthan gum.
For this blend, we provide two options – one xanthan and one without so you can easily customize it to fit a variety of recipes. You'll never have to go back to overpriced store bought gluten free flour blends again!
What Flours Are Gluten-Free?
There are a wide variety of gluten free flours including rice flour, tapioca starch or flour, potato starch, oat flour, almond flour, coconut flour, sorghum flour, millet flour, tiger nut flour, and buckwheat flour.
That said, not all gluten free flours are ideal for baking. For instance, our favorites include almond flour, gluten free oat flour, coconut flour, tapioca flour, or cornstarch. And we break down the differences, when to use what, how to combine flours, conversions, and more in our post covering the best gluten free flours for baking!
What Is This Gluten Free Flour Blend Made Of?
We've tried and tested endless combinations of gluten free flour blends to nail this recipe for you! We narrowed down the combination to just five ingredients for the perfect multi-purpose recipe for gluten free flour blend!
White Rice Flour – Not to be confused with glutinous rice flour, white rice flour is a type of flour made from polished white rice, meaning it is fairly bland in taste and is great for contributing to a light, airy texture.
Note: White rice flour is different from brown rice flour which is made from whole grain rice, meaning it has a slightly more dense texture and a nutty flavor.
Tapioca Starch/Flour – Not to be confused with modified tapioca starch or arrowroot, tapioca starch is a fine white powder extracted from cassava root. It is most commonly used as a thickener in gluten-free recipes and adds structure to baked goods, helping them hold their shape.
Note: Although we haven't tested it, you should be able to substitute arrowroot starch in a 1:1 ratio for tapioca starch instead. Just make sure to measure your starch in grams for the most accurate results!
Potato Starch – Not to be confused with potato flour, potato starch is the extracted starch from potatoes and can be used to create a crisp exterior and help thicken recipes.
Sorghum Flour – This is a type of flour that is made ground from sorghum grain and is a common ingredient in unleavened bread recipes.
Optional Xanthan Gum – This helps bind baked goods and lock in moisture, keeping whatever you're making soft and moist. As a result, we only include it in our 1:1 gluten free baking blend.
How to Make A gluten Free Flour Blend Recipe at Home
We know what you're thinking, don't you just mix it all up? And the answer is yes! …And no. You see, to really nail the perfect homemade flour blend, we have a few tricks up our sleeves.
Measure the Ingredients. We cannot stress enough how important proper measurements are for this recipe. Without them, everything you use it to make will be off! Therefore, we highly recommend using a food scale to weigh out all your ingredients. However, if you are using measuring cups, you'll want to use the spoon and level method to get a more accurate measurement. Do not just scoop the ingredients up with measuring cups!
Combine. Transfer all the ingredients to a large mixing bowl, and whisk until they're well combined. For the best results, use a food processor or whisk!
Note: This process remains the same whether you're making a gluten free all-purpose flour blend or a gluten free 1:1 baking blend.
Ways to Use Your Homemade Gluten Free Flour Mix
Again, we highly recommend using a food scale when measuring the blend before adding it to the recipe. Or, the spoon and level method is the next best alternative.
Gluten Free All Purpose Flour
1:1 Gluten Free Flour
TIP: If you're swapping this flour blend out for regular flour or other flour blends in different recipes, be sure to take note of whether or not the original calls for xanthan gum!
How to Store
We recommend making a big batch of one or both flour blends to have on hand!
Once combined, either blend can be transferred to an airtight container or ziplock bag and stored at room temperature in a cool, dry place for up to 3 months. Or, for a longer-lasting option, place your flour in the fridge or freezer for up to 6 months.
Pro-Tip: Whisk or mix your flour blend again before using it to remove any clumps!
Common Questions About This Easy Gluten Free Flour Blend Recipe
Is it cheaper to make your own gluten free flour blend? 
In general, making your own flour blend is much cheaper, because you can often buy the ingredients in bulk. Plus, you can easily control the ratios of what's included so you always get great results! 
Why do gluten free bakers use flour blends? 
Gluten-free flours range pretty drastically in taste, texture, and density, and no single flour works well to replace wheat flour on its own. Therefore, to mimic the effect, it's best to blend whole grains and starch. 
Can I use almond flour instead of gluten free flour? 
No, almond flour on its own is not effective in replacing gluten free flour blends in most recipes. 
Can I use these gluten free flour blend recipes instead of all-purpose flour? 
Gluten free flour blends (like this gluten free flour recipe) can almost always be substituted evenly with all-purpose flour. 
More of Our Favorite
More Gluten-Free DIY Staple Recipes
If you enjoy this gluten free flour blend recipe, you won't want to miss out on more of our DIY recipes for all your gluten-free baking needs!
Print
Gluten Free Flour Blend Recipe
---
Author:

Total Time:

5 minutes

Yield:

2 cups

(

330

–

335

grams)

1

x

Diet:

Gluten Free
Description
Skip the store-bought options, and make your own gluten free flour blend recipe at home with and without xanthan gum at home instead!
---
All Purpose Flour Blend
1-1 Baking Blend
1

cup

(145 grams) white rice flour

½

cup

(60 grams) tapioca starch

½

cup

(70 grams) potato starch

½

cup

(60 grams) sorghum flour

2 teaspoons

(

5.5 grams

) xanthan gum
---
Instructions
Using a kitchen scale (see notes), add all ingredients to a large mixing bowl and whisk until combined.
Transfer to an airtight container like a mason jar or ziplock bag. Store the flour blend at room temperature in a cool dry place for up to 3 months. Whisk or mix the flour again before using to remove any clumping.
Notes
Prep Tips – To get the most accurate measurements, use a kitchen scale or if you are using measuring cups, spoon the flour into the measuring cup and then level it. Don't scoop the measuring cup into the flour.
Storage Tips – Storing the flour blend in the fridge or freezer will maintain freshness for up to 6 months.
Baking Tips – When adding this flour to recipes, use a scale to measure the flours and spoon the flour into the measuring cup, then level it.
Difference Between All Purpose and 1:1 Flour Blends –  Xanthan gum is added to 1:1 flour blends to provide structure and elasticity that gluten free baked goods lack. It also helps baked goods hold their shape after baked. A little xanthan gum goes a long way.
Prep Time:

5 minutes

Category:

baking

Method:

no bake

Cuisine:

American
Nutrition
Serving Size:

¼ cup

Calories:

131

Sugar:

0.2 g

Sodium:

0.2 mg

Fat:

0.5 g

Saturated Fat:

0.1 g

Carbohydrates:

29.6 g

Fiber:

0.9 g

Protein:

1.7 g

Cholesterol:

0 mg
Keywords: homemade gluten free flour blend, baking substitute, flour blend gluten free, gluten free flour blend recipe, recipe for gluten free flour blend, gluten free flour all purpose blend