Welcome to another special feature Behind The Scenes Post! Here's a look at what's really been going on behind the scenes at Cotter Crunch. We've been working nonstop for the past 4 months, and all on this….. A STUDIO SPACE! A studio space to share with each and everyone one of you! Yes, that is the focus and title of this post.
You are invited!
SALT LAKE CITY STUDIO – a space to SHARE
Welcome to the almost complete Cotter Crunch Studio Space! Aka the biggest INVESTMENT of my life!! But oh SO WORTH IT!
You see, just like a recipe, things made from scratch take more patience, focus, and a little bit of nurturing. But there's also nothing like seeing the finished project (the fruits of your labor) come to life and shared with others. Truly. ?
So here I am. Corny Cotter with a little Field of Dreams quote…
"If you build it, they will come."
Pictures below –> From scratch studio back in March, to 80% finished today. Phew!
The vision behind this studio space…
Yes, for the past 6 years, this has been my vision behind "building" a studio space. I wanted it to not only be a place for me, but a space for OTHERS to GROW and THRIVE. To share their GIFTS and TALENTS. To learn to support each other in our journeys towards big dreams! No matter the type of dream.
And if we're being honest here, for awhile, I doubted myself.
Thinking I would never "arrive."
Thinking I would never have the abilities or resources.
Heck I even told myself that I would never be talented enough or deserving enough for a separate work studio.
Shame on me.
Life had thrown me (us) for a loop after my husband retired from his pro athlete career, and at the age of 30 (now 36), we both struggled with finding our true identity. For 6 years I struggled to overcome that self doubt talk, DAILY! The little voice and identity crisis within me. But I knew if I just changed my mind set and focused on what I did know, I could and would OVERCOME those mental blocks.
I knew that I loved being creative, a woman entrepreneur, a nurturer, and a wife. Although some of those roles tend to get off balance. 😉
And BECAUSE of that, I just KNEW I HAD to continue towards this vision. To create a space to GATHER, a space not only for me, but for people in all stages of life. Identity crisis and all ?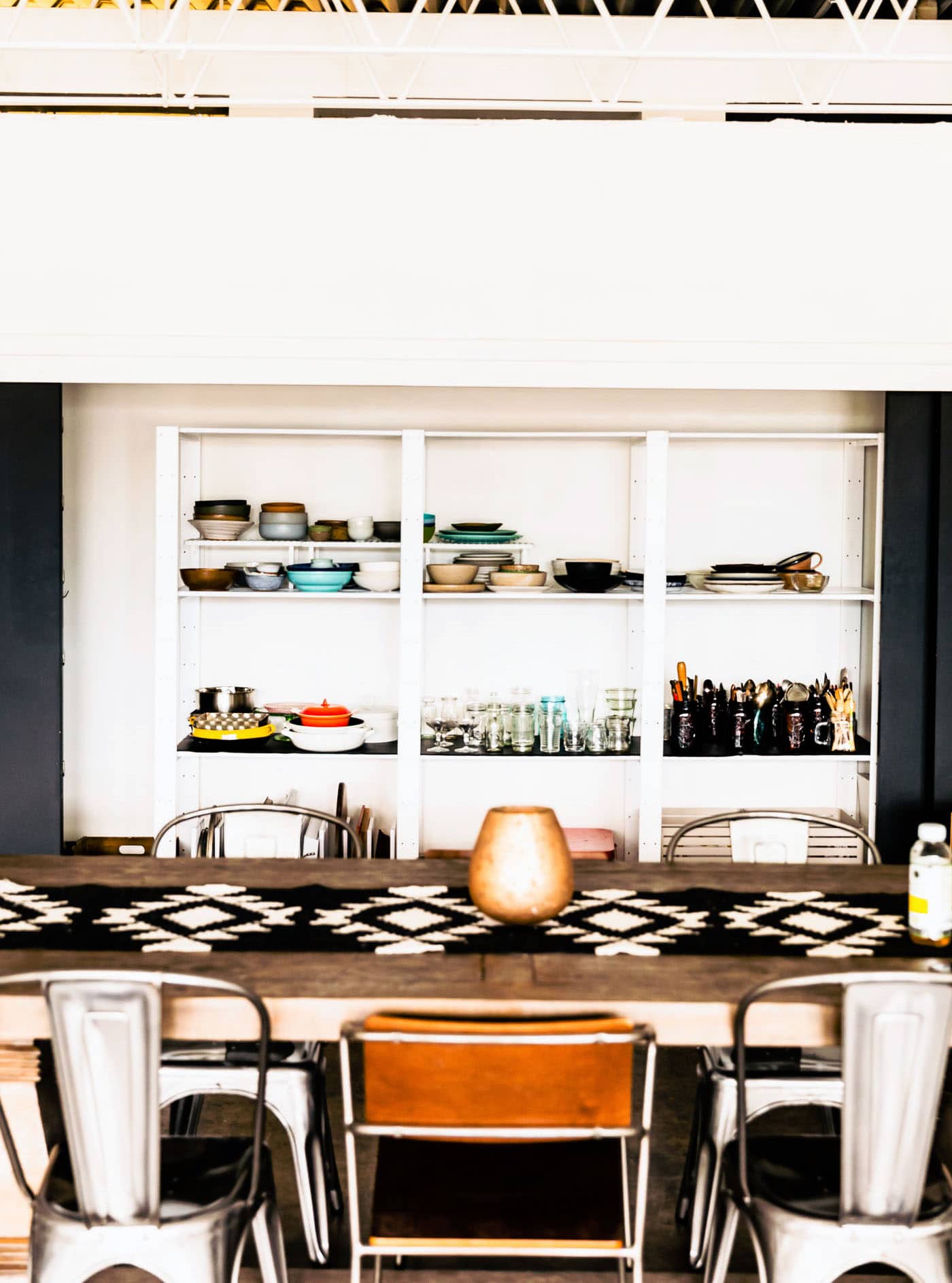 I am beyond grateful for this journey and the awesome support team who dealt with my stress every day while putting this studio together. We're 80% there guys!
I'm excited to share more UPDATES to come. Like an INSPIRATION room/office, modern appliances, and a built from scratch food photography backdrop holder/set up that is MOVEABLE! OMG it's GENIUS! Anyways, I could go on and on. But just wanted to share the update because I couldn't have made this work and look half as good without my new community of friends:
STUDIO SPACE SETUP
Simply Sam Organized – Designer/organizer extraordinaire. Sam also helped me with kitchen and pantry organization. You can see our IGTV video here. We also plan on hosting more organization and meal prep workshops, so let me know if you're interested!
Modern Yarn – The awesome painted yarn art (custom made) hanging over the couch. You have to check out her shop and Instagram! She is amazing and super talented.
Utah Furniture Deals – This woman is awesome! She sells furniture, rugs, and decor all at wholesale. Our rugs and pillows are from her shop.
Utah Barn Doors (Garage Gals)- Our lovely turquoise barn doors came from this crew. Love them!
Urban Quarry Quartz – Home + commercial countertop business based in SLC, but they do work all over the country! LOVE them! Great work, hard working, and affordable. They crafted our waterfall kitchen island without a single flaw! Seriously.
Hedien Brothers Carpentry – These guys worked 3 days straight to put our Ikea cabinets together. They also build a lot of other things! Check out their IG for all their new designs and carpentry work.
Modsy 3D design – I created a vision and 3D design with Modsy. This definitely helped us when executing a certain look. Sam and her team took that inspiration and made it come to life even more! If you're interested in designing with them, feel free to use my code for 20% off. Code is COTTER at checkout. 😉
IKEA, Wayfair, Target, Joss and Main – The Farm Table (Joss and Main), Ikea Kitchen Cabinets, other furniture and shelving from Target and Wayfair.
Pottery – REVOL porcelain pottery, plus other vintage thrift shop and etsy finds!
My family – My talented dad – the architect who designed the kitchen. My amazing husband – who spent endless hours putting together IKEA furniture and running to Home Depot. Haha!
This is where you come in! A Studio Space crafted for YOU.
I have already loved working in my space and cannot wait to share it with others! I WOULD LOVE for you to come visit!
Host a workshop – video, food photography, cooking demos, arts and crafts, whatever!
Host an event, party, or private dinner!
Use the space to take pictures/portraits.
Or just come and USE the space just for you! Food bloggers and influencers –> this space is open anytime for BATCH WORK done foodie boot camp style. And I can help.
We have details available on my site soon. In the meantime, if you are interested, shoot me a an email, comment, or social media message and let's make some magic happen!
Cheers,
LC