Okay okay, so I know its Thursday, but I promise I wrote this yesterday. Just forgot to take it off draft and hit post. Hmmm, can we say short term memory loss? LOL!
Anyway, This version of WIAW has a few special wishes. First of all, BIG SHOUT OUT to Jen from PEAS and CRAYONS (ya know, the one who puts on WIAW). It was her birthday yesterday so go give her some lovin' and WISH her a Happy Birthday!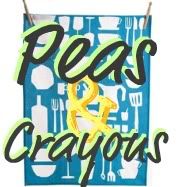 My second special wish is for you to check out
Kath's Solidarity to Japan post.
She's devoting her next few blog posts to Japan in. She encouraged us to join in! Her first post was a dedication to a Japanese dish. She recreated a delicious
Japanese Style Stir fry
so be sure to go take a look.
I really loved this idea and thought it would be great to make for WIAW! A special way to "express our solidarity with Japan."
I tried to make it fun and tasty while incorporating some Japanese flare!
Nori Seaweed Wrapped Salmon & Wakame Noodles
How to make the salmon:
Thaw out your salmon fillet. Coat with coconut butter and braggs amino acids or GF soy sauce.

Take one Nori Seaweed Wrap Paper and carefully wrap it around your salmon. Fold it at the ends. Add a little coconut butter or oil to end so it sticks.

Bake at 400F for 12-16 minutes. Depends on the thickness of your salmon. 10 minutes per inch of thickness.

Serve with GF Wakame Noodles and diced carrots.
Pretty Easy , eh? Need more ideas? Try out homemade sushi. Its fun and easy!
The hubs

can make a pretty mean sushi roll!
My third wish (I get three, right?) would be for you to take time out of your day and pray for Japan. It's not hard, just a little prayer. They could use a lot right now. Thank you friends!
Alos, here are some more links that are helping out Japan:
Do you have a wish to share? I wanna here it! What about a Japanese recipe? If so, leave your link with the recipe.
Again, thank you for listening to all my wishes!
Cheers,
LC
p.s.
No WIWW (what I worked Wednesday) this week but don't worry, it will be back!)