I don't know what I'm more surprised at, that it's already Thanksgiving or that retail stores are staying open on thanksgiving. Does that mean there's no longer Black Friday? Hmmm….
Anyway, this year's Thanksgiving is going to be little different for us. We will have a combination of allergy friendly foods and regular Thanksgiving foods. Since my niece is now dairy free and gluten-free, I want to make sure that there's plenty of options for her (and me) to eat, so she can enjoy Thanksgiving.
So today I wanted to share with you my gluten-free thanksgiving collection from my foodie Board. I think you'll like a lot of these. Most of them are gluten-free and if they aren't labeled gluten-free you can always substitute a gluten free flour for them. Lots of fun drink ideas, creative recipes, and of course allergy friendly food.
*If you have ad blocker on you will not be able to see the slide show-so temporarily disable or click this link!
** This is a sponsored opportunity with Foodie.com.
You can also check out Heather and Kristina posts for some great vegetarian and plant-based Thanksgiving recipes.
And just take in case you're like me and seem to always forget the length time of roasting your turkey or how to properly prepare it, here's a guideline that my local kitchen shop sent me..
If you don't have time, space or the inclination to brine your bird, you can still get great results.  Here are instructions for turkeys that are NOT being brined:

Dark meat takes longer than white meat to cook, so your goal is to make the cooking time as similar as possible so the white meat doesn't dry out while the dark meat is cooking fully. You have two options.

1. Roast the bird breast-side down for ⅔ of its cooking time, then flip it for the remaining ⅓. The juices will flow down to the breast, keeping it moist.

2.  Take the bird out of the refrigerator 1 hour before roasting and let sit at room temperature. 20 minutes before you roast it, put some ice in a ziplock bag and place it on the breasts to chill them. Roast for the times shown below.
Don't have time to prep a turkey? Jennie-O has an Oven Ready Turkey that is as easy as 1,2,3 to make! Literally, 3 steps!
Last thing, I promise. Be sure to check out the bake sale going on this Thursday over at The Chic Life. All of the money raised will be going to the Philippines relief. I'll be auctioning off Healthy Bites! YAY!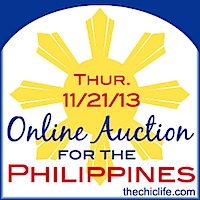 (Auction opens 11/21/13 in the evening)
And stay tuned for later this week. A strange but good recipe.
Okay, information overload!
Cheers,
LC
p.s.
Thank you for continued support after posting my "journey" yesterday. I know a few said they had a hard time commenting due to the Udis Discussion Platform embedded. Sorry about that. Hope the commenting system is all fixed today. 😉