Today I'm talking food and strange but good recipe combos. Good for a Friday, right?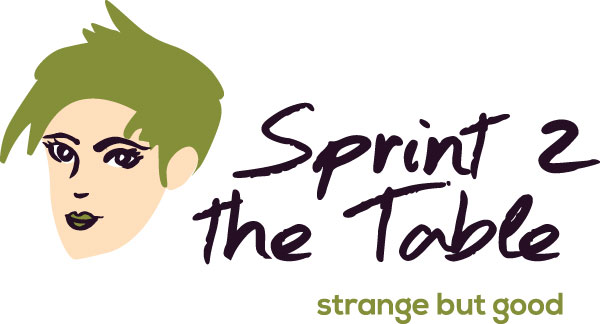 But before I do, I wanted to update you on the SLOW DOWN challenge.
Yesterday's challenge talked about interruptions. Oh how this hit HOME for me. Here's a snippet and the link that you can follow up on.
What if the things we consider inconveniences are the very tools used to help us grow?

We need to learn to fall in love with the whole process of life, not just a particular event.
One way to do this is by welcoming, not dreading, the interruptions. These include flight delays, long traffic lights, and even that needy person who takes up more conversation than you had originally planned for.
Why do we need to surrender to these moments that frustrate us to no end? Because:

They teach us to let go of control.

They remind us life is not just about "me."

They help us become more patient.

The legacy of your life will not be judged by how many emails you responded to or how well you maximized your lunch break. It will be measured, I believe, by how interruptible you were.
Did you get that? Yes, I am working on welcoming interruptions, not putting my emails in front of my relationships… whoa.. good stuff!
I'm going to keep posting daily recaps of the slow down challenge until it is finished. It's good accountability, and I need that. K?
Okay, moving on to food. I have a few reviews and a Strange But Good recipe to share, so hang tight.
Disclaimer: all of these product reviews are based on my own opinion. True true.
First off, I am thrilled to announce that Organic Valley now has lactose free milk and cream. I eat a low lactose diet so this is such a treat. We've used the creamer in our coffee and the whole milk in our pancake batter, etc. My kiwi husband says it reminds him of the New Zealand milk, just tastes pure. I really appreciate this company's focus on family farming and values. And you can read here about the farm's animal care.
Second, this drink. I have no other words but HOLY YUM! Might be the only way I'll drink an iced coffee.
Thanks Zola!
Third, the crew over at Bestowed sent me their August box to review. It's hard to get excited about food boxes when we eat gluten free, but the bestowed boxes are created by a nutritionist and the majority of their products they send are gluten free. YAY!
Here's a better look at the box.
Miracle noodles, rice chips, noosa yogurt coupon, rice vinegar, sea snacks, chia/flax sticks, and reboot were easily consumed within a day or two. Haha. But my favorite new find was the Reboot wellness booster. Maybe it's the marketing, but I thought this was genius. I used it post workout.
The pouch/water mixture is a high-potency antioxidant blend of seven plants and fruits that offers effective relief from Oxidative Stress by boosting your body's natural ability to fight cell damaging free radicals.
Anyway, if you want to try out a Bestowed Box, you can use the discount code 5OFFBESTOWED03 at check out for $5 off. No I don't get commission. Just sharing the love!
Okay, and last but not least. My strange but good recipe. Thanks to Laura, I get to share my Strange Cotter Creations, so enjoy and let me know if you try it!
[print_this] Ingredients:
French green beans

Spring salad mix

2/3 cup (or a large handful) of chopped red grapes

slivered almonds

dried cranberries (optional)

Creamy Caesar dressing (you can make your own with olive oil, red wine vinegar, and grated parmesan cheese)

1 cup Broccoli slaw

red pepper (optional)

Balsamic vinegar

Optional: grilled chicken, Salmon, or tofu

Lemon juice
Directions:
Very easy. Slightly steam your green beans. Not too soft, you want them extra crunchy. Then mix them in a bowl with your broccoli slaw and salad. Add a little balsamic vinegar and your almonds, then mix again. Top the salad mix with your chopped grapes, cranberries, and any additional protein. Season with the red pepper. Drizzle your creamy dressing on top to complete. I sometimes add in lemon juice or garlic too! [/print_this]
Well, that's enough food talk for now.
Anyone tried these products? What's your latest strange but good food combo?
Cheers!
LC