Two more races, yes, that's it. It's been a slower season but a HEALTHY season for the Kiwi, so we'll take it. Hoping that these last two races will go well and then the off season will be full of good training, more SLOW DOWN, holiday fun, and proper rest.
But for now, we gotta keep that FALL FOCUS! Nutrient dense foods and lots of it. Gotta feed this kiwi and keep him nourished, and me too of course (sherpa fuel).
Since we now have a TJ's, I have the luxury of buying endless bags of coconut strips. Lightly sweetened dried coconut is perfect in Love Grown Foods Super Oats (sugar free) with a little chocolate Nuttzo on top.
But good nutrition doesn't have to be expensive. Taco Tuesday is cheap, easy, and nourishing. We like to use farmers market eggs, peppers and veggies from my parents garden, Costco GF chicken sausage, and gluten free corn tortillas of course.
It also helps that I won Jennifer's SunRype fruit source giveaway. These all natural fruit leathers have been a God send for my husband's training. Phew!
And last but not least, dinner time nutrients.
You see, the kiwi will eat his Omega rich Salmon if I put some form of goodness on top (BBQ sauce, salsa, etc), but he actually doesn't prefer it. Although I do! So very now and then I've been switching out our Salmon with Cod.
Here's a look at why Cod is just as nutrient dense as Salmon (well I'd say it's a runner up).
Cod fish is a great source of omega 3 fatty acids. Omega 3 fatty acids are needed in the body for proper brain functioning, as well as cardiovascular health.
Cod is packed with energy filled vitamins –>B6 and B12  help you have more energy during your workouts and while performing sports. V

itamin B6

also helps regulate hormonal imbalances. VitaminB12 helps to reduce anemia (think fatigue) and can help increase energy levels (vitamin B12 helps produce new hemoglobin).
The oils that come from cod fish are used as an anti-inflammatory.
Three ounces of cod provides 10 percent of the DV for phosphorus and magnesium. The body uses phosphorus to produce energy, form strong bones and create DNA. Magnesium assists in immune function and helps keep your blood sugar and blood pressure within normal levels.

Source: yahoo sports
Okay, ready to eat some Cod? Dig in!
[print_this] Honey Lime Cod and Roasted Fennel
Serves: 1-2
Ingredients
1 large cod fillet or 2 small 5oz fillets
1 fennel bulb
honey lime dressing or homemade with lime juice
balsamic vinegar
olive oil
garlic (minced)
black pepper
Optional- curry powder or chili pepper seasoning on fish.
Homemade dressing is ¼ cup olive oil, 1-2tbsp lime juice, 1-2tbsp honey, black pepper, and maybe a little honey Dijon mustard.
Instructions
1. Cut your fennel bulb in half with the stem still attached. Then cut bulb into wedges. Take the stem and pull off leaves (seeds). Arrange the bulb pieces in a baking dish and lightly coat with balsamic vinegar and oil. I would say about 1-2 tablespoon of each. Then sprinkle your garlic on top along with the rest of your fennel leaves.
2. Roast at 400F for about 12-14 minutes. Broil the last 2 minutes.
3. All you need to do for the Cod is marinate it in homemade dressing or a honey lime dressing for about 10 minutes.  Then roast with the fennel and check it after 10 minutes or before your broil the fennel. I like to top the fish with a little curry or chili pepper seasoning as well, but that's my preference. [/print_this]
What's in your feeding zone this week? Or for this Wednesday?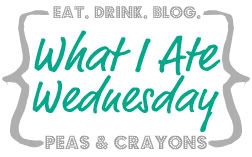 What do you think? Is Cod just as good as Salmon? I know you have preference!
Cheers,
LC
p.s.
Slowdown encouragement for the week–> another amazing challenge that can go right along with the Slow down challenge. Get Happy!
[Tweet "@LCCotter Feeding Zone: Honey Lime Cod recipe and Nutrition Perks! //wp.me/p1N2t3-2Ye  @LCCotter #fitfluential #CotterFeedingZone #glutenfree "]